Accent Credit Control Software for Legal
A comprehensive Credit Control package for Legal firms. Based on Accent Software's outstanding Credit Control application, this version provides extensions aimed directly at use within the legal profession.
Building on existing features Accent Credit Control for Legal provides the tools required to segment debt in a way appropriate for legal partnerships.
By focusing on communication requirements, Accent Credit Control for Legal is packed with features that can be used to improve information dissemination between personnel and departments whilst ensuring that only key decision makers receive notifications
Click here for Accent Credit Control standard.
Chase by Matter or by Client
View client debt by matter no. or consolidated for all per client. Full chase facilities for merging matter/client fee information with Office, with unlimited history held on all correspondence with your clients.
"Streamline your collection process."
"Provide Partners and Fee Earners with timely, accurate information."
Automated Reports emailed to Partners or Fee Earners
Configure internal reports to be emailed in PDF or Office periodically to Authorised members. Data can be locked down to report only on clients relevant to the member.
Generation of email for client statements and customised chase letters
Allows for the configuration of text within emails for different client groups. Associated documents can be attached to emails. Templates within Office can be easily created for customisable chase letters.
"Save cost of stationery and Postage."
"Improve communication between staff and departments."
Query management
Automated emailing of Internal Memos to members to resolve client queries quickly. Members can make notes and update the resolution codes for the Credit controllers to view within the system, and update the main client account.
Integration with the Cloud for taking client payments
Integration with Accent's Digital Ledger for web access in order to facilitate clients to make payments electronically, resolve disputes, and download statements and copy fee notes.
Categorise debt by Branch or type of Legal work
Reports can be produced by branch location, types of legal
work or type of client. These include state of client debt, cash flow and query reports.
"Manage your debt and improve your cash flow by deploying Accent Sales Ledger & Credit Control for Legal."
Keep up to date with Credit Control for Legal
Features
General
Generate and distribute internal memos and queries.
Intelligent letter cycles.
Provides the ability to automatically generate and delivery reports to both Fee Earners and Partners.
Runs as a stand-alone packages without any additional dependencies.
Installed quickly on standard MS Windows platforms.
Financial
Track debts on matter number or client referenced
Generated reports by matter number.
Consolidate debts by client reference.
Debt analysis by way of hierarchical category groups.
Interfaces to any number of legal accounting packages.
Security Screen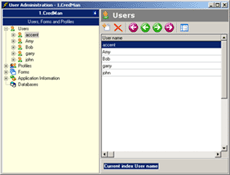 The security section of the system helps to ensure that access to the debt figures and customer information is controlled/restricted. You can configure the security settings to suit your company's requirements, this integrated section also includes database settings and user/collector information which you can edit from here.
Advanced Filter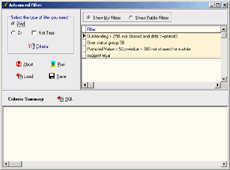 The system' Search Engine and Advanced Filter are highly developed and can be utilised effectively when sifting through masses of data, allowing you rapid location of specified criteria. Also, thorough and complex filters can be created and saved for your re-use.
Status Codes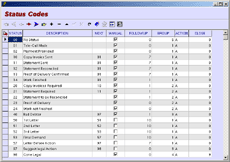 There are several codes which can be applied to the accounts; as a result, the debtors can be "grouped" in several ways. The codes (Status Code, Business Code, Debt Code and Status Group) assist in the 'breaking down' of the debts within the Reports created, the different codes also act as search criteria when filtering on the data-set for specific accounts.
Tracker
In addition to the codes which 'group' each account, we have included the 'Tracker' feature which allows you to keep trace of each separate invoice of an account which is making up the total of their debt.
You can add Invoice Status Codes to each invoice and 'chase-up' specific invoices using the Chase a Debt screen; tracker can be enabled/disabled as you require.
Debt Reports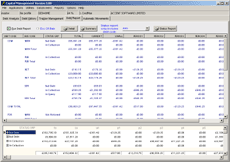 We have included an extensive Reports facility which creates numerous reports based on different debt information, such as; Credit-Limit Reports Age of Debt Report, Status Report - and more. The main Debt Report displays the debt totals broken down into organised groups using the status' business and debt codes. The reports can be exported to other applications, such as Excel and CSV, using the handy "Export" features or they can be printed for review.
Competitive pricing
for Sales Ledger/Credit Control Departments within Legal Practices
or
their delegated agents.
Full and comprehensive training can be provided either on site or at Accent Software Ltd head offices.
We also provide full Installation and configuration services. As part of Accent Software Ltd software development services the Credit Control for Legal application can be tailored to exactly meet your requirements.
System Requirements
Windows 98+
250mb+ memory
Resolution of screen 800x600 pixels
Requires Microsoft Word
Databases
MySQL
SQL server
Informix IDS
Note: Informix requires on-site installation
Interface to on-line Digital Ledger
Porting to databases, e.g. Oracle
Embedding within Financial packages
Automating background tasks