Case Study

Ellis Brigham
Ellis Brigham have a proud heritage and have operated for over 80 years in the retail sector. They have grown from being a specialist boot seller, to the leading UK independent outdoor sports retailer. They sponsor and employ professional skiers and snowboarders who are all passionate about outdoor sports.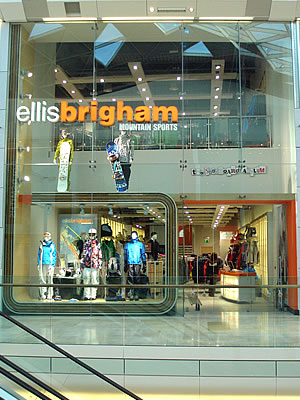 How We Helped
Their retail system was developed specifically for the fashion industry catering for the vast combinations of departments, styles, colours and sizes.
Ellis Brigham has become a market leader in skiing and outdoor clothing and equipment and they required a system which could cater for their increased operation in terms of more retail outlets, keeping up-to-date with customer requirements/expectations and dealing with ever-increasing volumes of data.
New EPOS System
Initially Accent linked Matrix to their currently installed third-party point of sale terminals, communicating data overnight to head office. Accent subsequently installed their sophisticated point of sale software on standard epos equipment throughout all the stores in the UK in 2002. Ellis Brigham achieve reduced costs and better control by purchasing this equipment and plugging it together themselves. Communication is now real-time over broadband and all configuration of epos units is controlled via head-office allowing single point of total control and monitoring.
Linked to Accents Financial Reporting Module
Automation was an important factor from the outset and stock and financial information is built automatically allowing Ellis Brigham access to up-to-date information without odorous input by operators. Financial reporting has improved tremendously by deploying Accent Matrix head-office and epos systems, and data can be compiled quickly by our financial reporting module providing profit and loss figures for the company as a whole, or detailed for each outlet.
To speed up the sales analysis and allow for quick and detailed reporting Accent now has, as standard, a data-warehouse built into the Matrix retail system. Data is compiled from all the channels of communication open to the customers and provides sales figures for the vast array of styles down to colour/size per day, week, month and by year, as well as building sales trends to assist in Ellis Brigham marketing campaigns.
Up-to-date Hand Held Technology
Hand-held units when installed over 2 decades ago were originally built by in-house engineers, for the purpose of stock-takes, goods received and delivery notes. The software has since been ported onto Symbol scanners and more recently keeping our client up-to-date with technology on PC-based wireless hand-held devices.
To facilitate opening up multi-retail channels Accent introduced mail order system which integrates to the financials and head-office stock system and has now become an integral part of their sales channels.
Continued Development
Current projects recently implemented now include click & collect, multi-location warehousing management and introduction of new visualised servers with off-site redundancy.
One of the main benefits achieved is that by managing all information via Matrix retail and financial systems the process has been streamlined and any changes Ellis Brigham require due to technological advancement, driven by customer demand or internal requirements, can be delivered quickly and efficiently by the authors of the solutions.
Testimonials
"We have had Accent working on creating and tuning our ever complicated computer systems since the early 1990s; they've helped us develop our IT systems - streamlining both the retail and financial sides by incorporating leading edge technology with top quality software writing and design.
In the retail market it is vital that management information is available & on-hand. We now have real-time communications with all our shops around the UK as well as a thriving mail order business and super efficient warehouse.
Accent have provided us with cost effective solutions over these years and always provide a very personable, quality service."
Bob Brigham Managing Director of Ellis Brigham - UK premier retailer for snow sports and trekking hardware, mountaineering equipment and outdoor clothing.